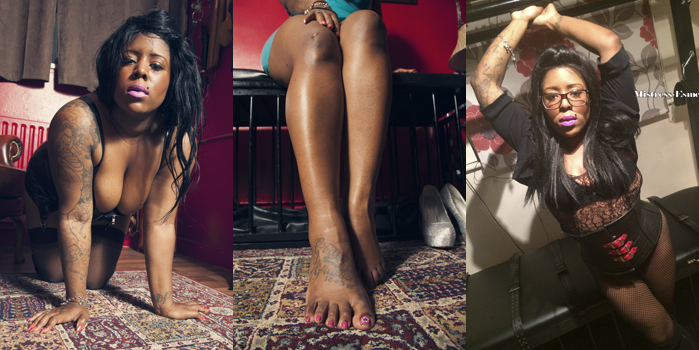 My name is Mistress Esme I am a Pro Domina based in London.
I am not like the stereotypical Professional Dominant. First and foremost being Dominant is not just a job to me, it's a way of life. A passion and something I fundamentally enjoy and believe in. Time spent with me is not about a shopping list of ideas, it's about an ethos, a time when you can come and be under my control, and allow me to be the creative Dominant that you will soon realise I am. Using the skills and knowledge I've built over 10 years to ensure that we both find that joy and passion in a truly Dominant and submissive exchange.
I'm bubbly and outgoing and like nothing more than to laugh and have fun as we spend time together. Time spent in my presence will give me the chance to take your submission and use it in my own inimitable style, for a real and true D/s encounter. You will be safe in the knowledge that whilst all limits and values will be respected, equally I will use all my skills to bring out the submissive you know you can be and help us both enjoy fun and Dominance in my playspace.
I'm not a clock watcher, I don't run by the hour, if you do your job well you'll find me enjoying the time and the hours will just fly by. However if you come with a shopping list of things you want, you won't get the best from our time and ultimately, we will both probably be waiting for the session to end. I'm not a plastic or insta Domme! I do what I do because I'm genuinely Dominant, and I not only seek but crave genuine submissives at my feet, to allow me to get inside their head and create my magic on their willing body and soul.
Are you the submissive I require? Would you relish being engaged in a genuine Dominant/submissive experience rather than a manufactured set of activities? If so, start to show that to me by making contact respectfully. Our Dominant and submissive exchange starts the moment we first make contact. Good subs know how to make a good impression.
*If this is your first time and you like the sound of what you read, firstly well done, you've seen immediately that Domination is not about a list of activities but about a mental and psychological exchange. Don't be afraid, tell me you are new, and let me show you and help you discover your true submissive potential.
Kind regards,
Mistress Esme