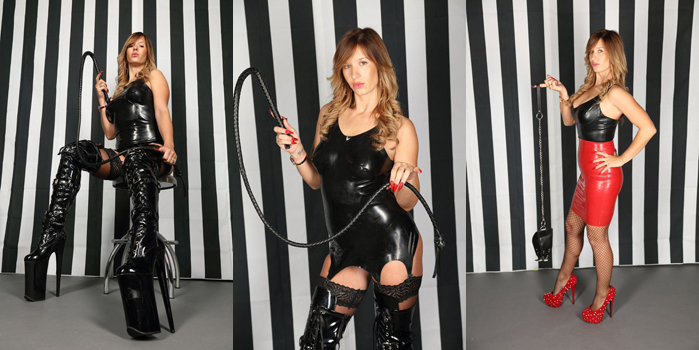 Miss Lady Ashley is my name, Controlling you is my game having you worship me and obeying my every command is my deepest pleasure,  Please your Mistress and I will have you crying out in sensual fulfillment, disobey me I will have you screaming in unrelenting pain.
I would describe myself as a pure Beautiful English Dominatrix, of very high standards specializing in Domination.
I'm a successful Dominatrix, so this isn't simply a job for me I am passionate, dominate seductive and very sexy, thriving in a position to control you.
While i endeavour to meet all your expectations, in return I expect you to succumb to my own ideals. Whips chains and toys totally excite me, so let me show you the beauty of pain while you surrender to me.
I welcome both novice and experienced subs/slaves i can be playful erotic and sensual for my novices or subs that wish to experiment in domination or sexy sadistic cruel mistress for the more experienced subs/slaves who choose to submit fully.
Miss Lady Ashley has a passion in domination as much as I adore handing out punishments in a strict sadistic manner i also enjoy the sensual side of pushing limits. When you enter Miss Lady Ashley's world you will never want to leave it. .
Maybe you long to be dressed up in wigs make up and nails and slutty or pretty dresses and become my little sissy sluts, Miss Lady Ashley's sissy wardrobe grows by the day as this is something I get much pleasure out of.
If you wish to learn more about Serving Miss Lady Ashley take a look into my site! ENJOY!  I look forward to hearing about your kinky domination fetishes and how you wish to serve this true goddess and allow your limits to be pushed.
I would advise when booking a session to email or text as much details of things you wish to explore and things you don't wish to explore along with past experiences,
If you wish to be a text slave or online slave/sub this is welcome Miss Lady Ashley will make daily contact with commands and instructions and will expect you to follow, in return I would of course expect a small  tribute via PayPal, text or email for detail